Sydney Commercial Cleaning
Commercial cleaning? We have you covered!
At NSW Commercial Cleaning, we have a range of services to clean all types of commercial facilities. Our team will work with you to advise on the right cleaning solution for your property's unique requirements. 
We are committed to providing the best customer experience to all of our customers. All work is quality guaranteed and we offer 7-day customer support to ensure seamless service is delivered.
We service sites across Sydney and throughout New South Wales. All of the services we offer are environmentally conscious and we take all appropriate measures to contribute to a happy and healthy planet. 
Reasons to Choose NSW Commercial Cleaning?
Ensuring an exceptional customer experience is our top priority. Our customers are at the centre of our operations, and we take great pride in delivering superior service.
That's why, when you choose NSW Commercial Cleaning, you're not just hiring a professional cleaning service; you're securing a team of highly-trained commercial cleaning experts who utilise safe and sustainable cleaning products and are available around the clock to provide long-term support. From restaurants and schools to medical centres and gyms, here are just some of the many reasons why businesses trust NSW Commercial Cleaning's Sydney commercial cleaning team:
No Commercial space is the same, and that's why we can tailor our cleaning service to meet each individual space. Some of the services we offer:
Full clean of all common areas provided on a regular basis.
Carpet steam cleaning of all types of carpet and rugs.
Sanitary bins provided and serviced on a routinely basis.
Cleaning consumables: soaps, hand towels, toilet paper, etc provided.
Steam cleaning of all types of fabric upholstery.
Range of hard floor cleaning services including: Strip and seal, polish, buff and scrubbing.
Water high pressure cleaning of external hard surfaces.
Periodical deep cleaning of all or specific areas.
General and recycling waste bins provided and serviced regularly.
Infection control cleaning
Disinfection fogging service for contaminated spaces and outbreak control.
Interior and exterior window cleaning.
What Commercial facilities do we clean?
Choose our risk free service, and get peace of mind and the best support in the industry.

Environmentally Friendly
All aspects of our service focus on minimising harm to the environment and seek to do our part in creating a healthier planet.

Quality
Guaranteed
We guarantee a high standard on all our jobs. Our sites are cleaned by our experienced team of cleaners and check by our supervisors. Any problems are fixed asap at no charge to the customer.

Certified
Cleaners
All cleaners are experienced, equipped with commercial grade equipment and are provided with ongoing training to guarantee we deliver an above industry standard service.
Commercial Cleaning Services Sydney
Take Advantage of Our Commercial Cleaning
Services in Sydney
As a business owner, you may think that your office building is sufficiently clean, although there are many areas where germs and bacteria can hide without your knowledge. Hiring commercial cleaning services in Sydney will assist with eliminating these microorganisms, ensuring the health of your employees and clients. Studies have shown up to 200 000 different types of bacteria breeding deep within carpet fibres. These cannot be removed with a simple vacuum cleaning but rather by professional commercial office cleaning.
Carpets absorb organic matter, including moisture and dust, which creates the perfect breeding ground for harmful bacteria. At NSW Commercial Cleaning, we have the knowledge and equipment to leave your office hygienic and create a healthy environment for everyone in the building.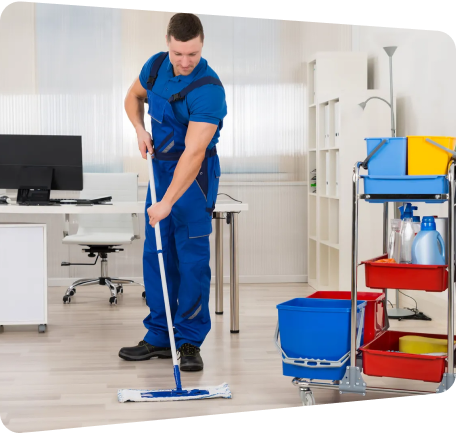 Why Choose Us For Your Sydney Commercial Cleaning Needs
Your office is where all your business transactions occur, from meetings with your employees to appointments with clients, and regular commercial cleaning is vital to ensuring a safe building. Here are a few reasons why you may want to consider us for all your commercial janitorial services:
When you choose our Sydney commercial cleaning company for your cleaning requirements, you also support the environment. We believe in sustainable living and only use environmentally friendly cleaning products.



Our cleaning methods and products help to minimise waste and maximise energy efficiency, making our partnership an eco-conscious choice that aligns with your corporate responsibility goals. From the products we use to the cleaning techniques we employ; our commercial cleaners continuously seek new ways to reduce their carbon footprint in the hopes of leaving less of an impact on the environment.




We understand that many people suffer from allergies to some cleaning products. Your employees won't have to worry about any allergic reactions to our cleaning methods, leaving them to work in a clean and productive environment.
Beyond the cleaning products we use, our commercial cleaners employ advanced cleaning techniques to remove visible dirt and grime while enhancing indoor air quality. By eliminating all traces of allergens, dust and pollutants, we help create a comfortable, clean and hygienic workspace, increasing productivity and ensuring a happier, more engaged workforce.
We know that each building is different and requires diverse cleaning methods. At NSW Commercial Cleaning, we tailor-make our cleaning services to suit your business. Most companies are busy during the day, and owners don't have the space to have our crew around cleaning their buildings. Hence, we offer 24/7 Sydney commercial cleaning services. Once all your clients and employees have left, we'll come to your building and remove germs and bacteria that collect in corners, flooring and office furniture during the day.
When hiring a Sydney commercial cleaning company, many business owners are hesitant. For total peace of mind, we offer a free first cleaning and a one-week trial to decide if you want to proceed with our services. Many cleaning companies require you to sign a contract for a fixed period, binding you to use their services. With us, there are no contracts, and you are free to discontinue our services, although based on our customer reviews, you'll be pleased with the result.
The Benefits You Can Reap From Regular Sydney Commercial Cleaning
Having your office cleaned thoroughly saves you time. You will save money in the long run by hiring commercial cleaning companies, and you won't be responsible for managing the cleaning crew. Here are some of the other advantages you can enjoy with commercial cleaning in Sydney:
Improved health and hygiene
Providing a clean and sanitised work environment can lead to your employees taking fewer sick days, increasing productivity and overall morale. With a clean office, germs cannot be passed on between people, and with our environmentally safe products, you can rest assured that we don't harm the planet with chemicals. A clean, organised, tidy workspace also means fewer distractions, so employees are more likely to stay focused on their tasks, ultimately leading to higher productivity and job satisfaction.
As a business owner, you only have one chance to make a good impression on potential clients, and hiring a company to clean your offices daily allows you to impress current and future clients. A consistently clean and well-maintained office space creates a positive image for clients, partners and potential customers, conveying a sense of professionalism and attention to detail that can solidify your reputation for excellence. Our Sydney commercial cleaning team offers an array of services other than just a regular vacuum and wipe-down. We ensure that all surfaces, visible and not, are thoroughly cleaned with high-quality products.
Our cleaning services go beyond simply wiping down dirty surfaces. We thoroughly clean your office furniture, carpets and equipment, preventing the buildup of dirt and grime that can impact the lifespan of your furniture while saving you money on long-term replacements and repairs.
Customised Sydney commercial cleaning solutions
Whether you own an industrial warehouse that requires regular high-pressure cleaning or run a car dealership and need weekly window cleaning services, our Sydney commercial cleaning team offers customised cleaning plans to meet your specific needs and budget. Our team will ensure that resources are allocated efficiently to the areas that require the most attention so we can maximise the impact of your investment while delivering a service that meets your requirements.
Along with offering a tailored service that meets your business requirements, investing in regular commercial cleaning is a long-term, cost-effective solution. Rather than waiting for dirt to accumulate and carpets to be heavily stained, regular maintenance reduces the need for deep cleaning, repairs or replacements of damaged surfaces or equipment. It also prevents the deterioration of your assets and furniture, helping to save your business money.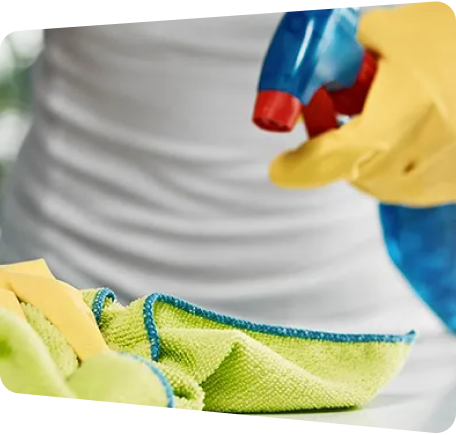 More About NSW Commercial Cleaning
At NSW Commercial Cleaners, we pride ourselves on our track record of customer satisfaction. As
commercial cleaners

,
we use only the highest quality cleaning products that are safe for you and the environment, keeping your business clean, hygienic, and safe.
Get in touch
with us if you require more information about the services we provide or a quotation.
Contact Us Today For A
Free Quote!
Frequently Asked Questions